KidsUP Soroban - Critical Maths learning from home app for kids from 4 - 12 years old
Approaching math with a new method that helps your child passionate about math and become good at it
Master the method of super-speed calculation of unlimited addition, subtraction, multiplication and division
Applying artificial intelligence technology and automatically adjusting the learning path to suit each child's ability
Comprehensive development of the left and right hemispheres of the brain, contributing to concentration and memory.
Direct interaction with virtual abacus without tools and access unlimited self-generated exercises
Study anytime, anywhere without an internet connection with tuition fees 30 times cheaper than centers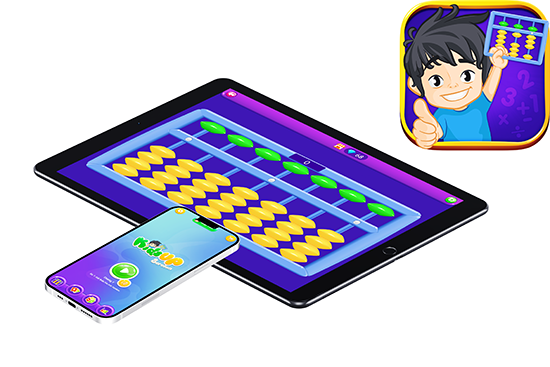 Activate 2 hemispheres of the brain - develop mathematical thinking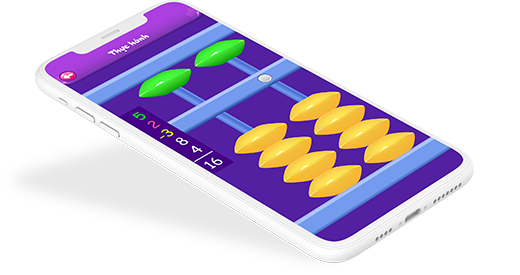 Kids Up Soroban is today's best educational program for children from 4 -12 years old in terms of critical maths and mental calculation. Kids Up Soroban applies modern artificial intelligence (AI) technology to bring a new method to learn Math to children from 4-12 years old. This method has been applied in developed countries in the world such as Japan, Singapore, Korea, China, etc., and has created many rare world records in mental calculation.

With a learning duration of only 20 minutes a day, children will master the method of super-speed mental calculation, unlimited addition and subtraction. When using the abacus, children will use both their hands at the same time and this movement stimulates both parts of the brain simultaneously, helping to activate brain cells. In addition, Soroban also helps children to increase concentration and memory.
Kids UP Soroban uses artificial intelligence technology to provide a methodical and personalized learning path according to the ability of each child. This learning path ensures that children can fully study at home. The lecture system consists of numerous chapters, with various lessons arranged in increasing levels in each chapter, making it easy for children to approach. The lesson structure includes: Theory – Example – Practice – Test – Review to help children understand and grasp the knowledge deeply, and practice repeatedly on a regular basis. This program has been professionally verified by thousands of Soroban experts and teachers nationwide.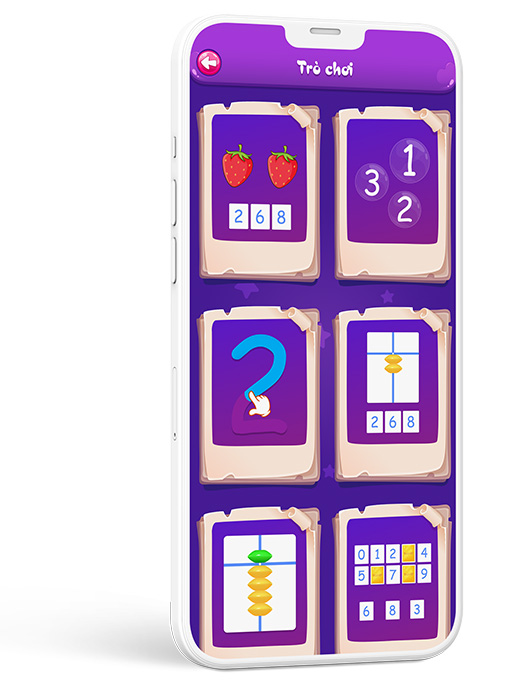 Kids UP Soroban gives children an extremely fun math learning method, integrating games into math learning, helping children more excited about Math and progress faster than conventional learning methods.

The difference of Kids UP Soroban App compared to other home learning programs is that children can directly interact with the lecture, not just passively listen. All of your child's work will be recorded and analyzed by AI technology. From there, you can grasp your child's mistakes and weaknesses, immediately correct them and support him/her with knowledge gaps. Therefore, parents can rest assured that their children can study on their own without having knowledge of Soroban.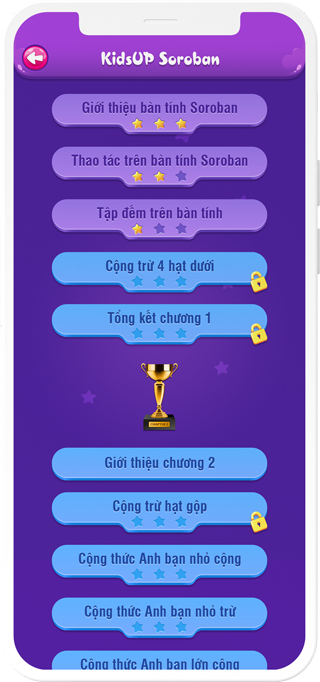 Kids Up Soroban offers children:
• 322 critical Math training lessons, quick mental calculation by topic, with increasing difficulty levels, helping children to approach, experience, absorb, master, apply, and practice proficiently the calculation method. Super-speed mental calculation with unlimited addition and subtraction of 4 digits, extended addition and subtraction of millions; get familiar with the multiplication table, multiplication and division by 2 3 digits.
• 4 AI teachers accompanying children throughout their learning process: Guide them to become familiar with the soroban abacus, operations on the abacus, mental calculation on the abacus, virtual calculator, etc.; follow up with your child's daily learning; report learning results to parents on a weekly basis; build a chart of their child's learning progress and skills, and guide parents and children on how to improve weak skills.
• 30+ games and practice exercises, helping children get familiar with the soroban abacus easily, master the calculation method with abacus and virtual calculator (quick calculation without using abacus). The lesson structure includes: Theory – Example – Practice – Test – Review to help children understand and grasp the knowldge deeply, and practice reepeatedly on a regular basis.
• 1000+ different types of exercises automatically generated on the application, allowing children to practice unlimitedly, in different formats and levels. Parents and children do not have to waste time buying workbooks or searching for exercises for their children.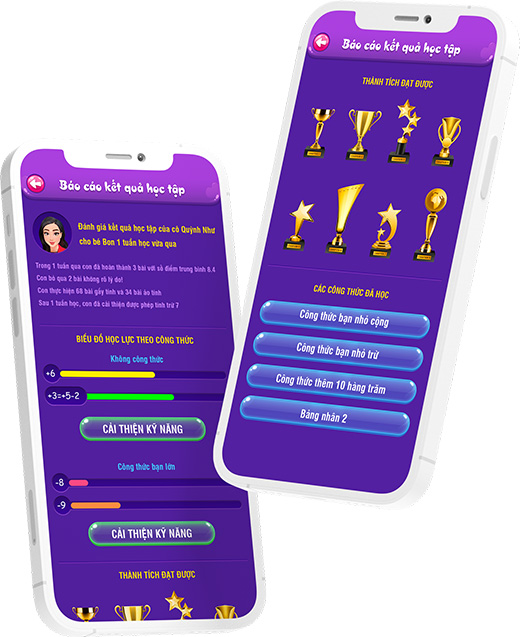 Benefits of using Kids Up Soroban:
• Develop superior mental math skills that no other pocket calculator can match
• Develop both left and right brain hemispheres comprehensively
• Enhance concentration and improve memory
• Save time and money when children do not have to go to learning centers
• The learning duration is short, but ensures continuity and coherence, helping children to make rapid progress
Feedback from parents who are using KidsUP Soroban
Sign up for KidsUP Soroban for your child today!
Weekly study results report
Save the learning process by account