"KidsUP is a pioneer in bringing early education methods to a mobile platform to help millions of families access early education at home.
With the mission of spreading the values of early education to children globally, we aim to become a leader in applying technology to early education with an application ecosystem of 2 key products: KidsUP Montessori and KidsUP Soroban.
The products are expanding in the Southeast Asian market, and expected to reach global coverage in the next 5 years.
"From the desire for early education for children to spreading the first early education app in Vietnam for millions of parents."
For parents who have chosen Montessori to educate their children in the first "golden years" of life, accompanying their children is always something that requires enormous effort and patience. This has inspired CEO Vuong Thanh Chung to form the idea of ​​KidsUP. Kids UP embraces the enthusiasm for early education and the love of parents for their children.
"There are not many early education materials. After downloading, you have to print, and assemble the materials, and teach the rules of the game for your children, etc. Not everyone has the ability and time to learn these in detail. As we have worked on many early education curricula, we came to a conclusion that for children, studying is simply Enjoyment and PLAYING is how children learn to explore the world around as well as their own abilities." – CEO of KidsUP said.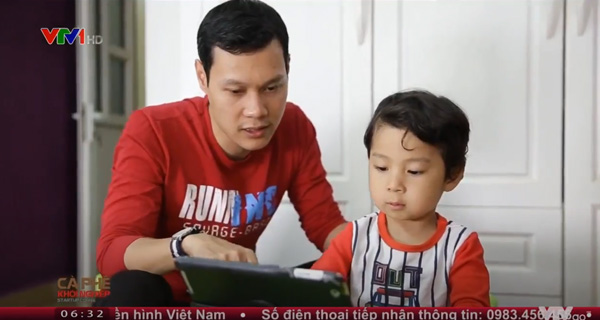 KidsUP - the number 1 early education app brand
"After 4 years of bringing the concept of early education at home to Vietnamese parents, KidsUP's way of spreading the Montessori spirit of early education has developed at a remarkable speed. Early education is no longer in theory or a distant dream, but has become a daily activity that can be afforded by most parents. From these achievements, KidsUP has continuously received enormous awards and trusts from parents.
This Vietnamese application has affirmed its position not only within the country, but also resonated in neighboring markets. For the first time, in Asia, Vietnamese parents pioneer in applying technology to teach their children at home from kindergarten age."
Kids UP Vietnam Technology Joint Stock Company was founded
KidsUP Montessori products were launched at Techfest 2017
Receiving an appraisal certification from the Institute of Technology Development and Education
Top 10 Startup Wheel 2019
Top 10 Information Technology Enterprises in Vietnam
Receiving the certificate of Sao Khue Award 2021 in Education and Training
Lauching the products in Thai market
Receiving the Most Typical Vietnam Digital Transformation Product Award 2021
With early education becoming more popular in all countries, the demand for convenient home learning methods is also increasing, and the potentials of Kids UP in the future are significant. The KidsUP team are still working day and night to diversify the content repository and build a dedicated teaching and support staff for the mission of accompanying parents to educate their children.
Prioritizing customers' benefits